Last weekend I realized I had some goat in my freezer from over a year ago.
So figured I should get it out and thaw. While seeing if there was any freezer burn, which there was some. So once it was thawed, I cut any of it away and made it into small pieces.
When you have a frozen goat or lamb leg, cut it into smaller pieces for stew. Make sure you have them cut it into one-inch square pieces. Otherwise, they will make them like two inches or bigger. Which makes the stewing/cooking process more manageable, along with eating afterward.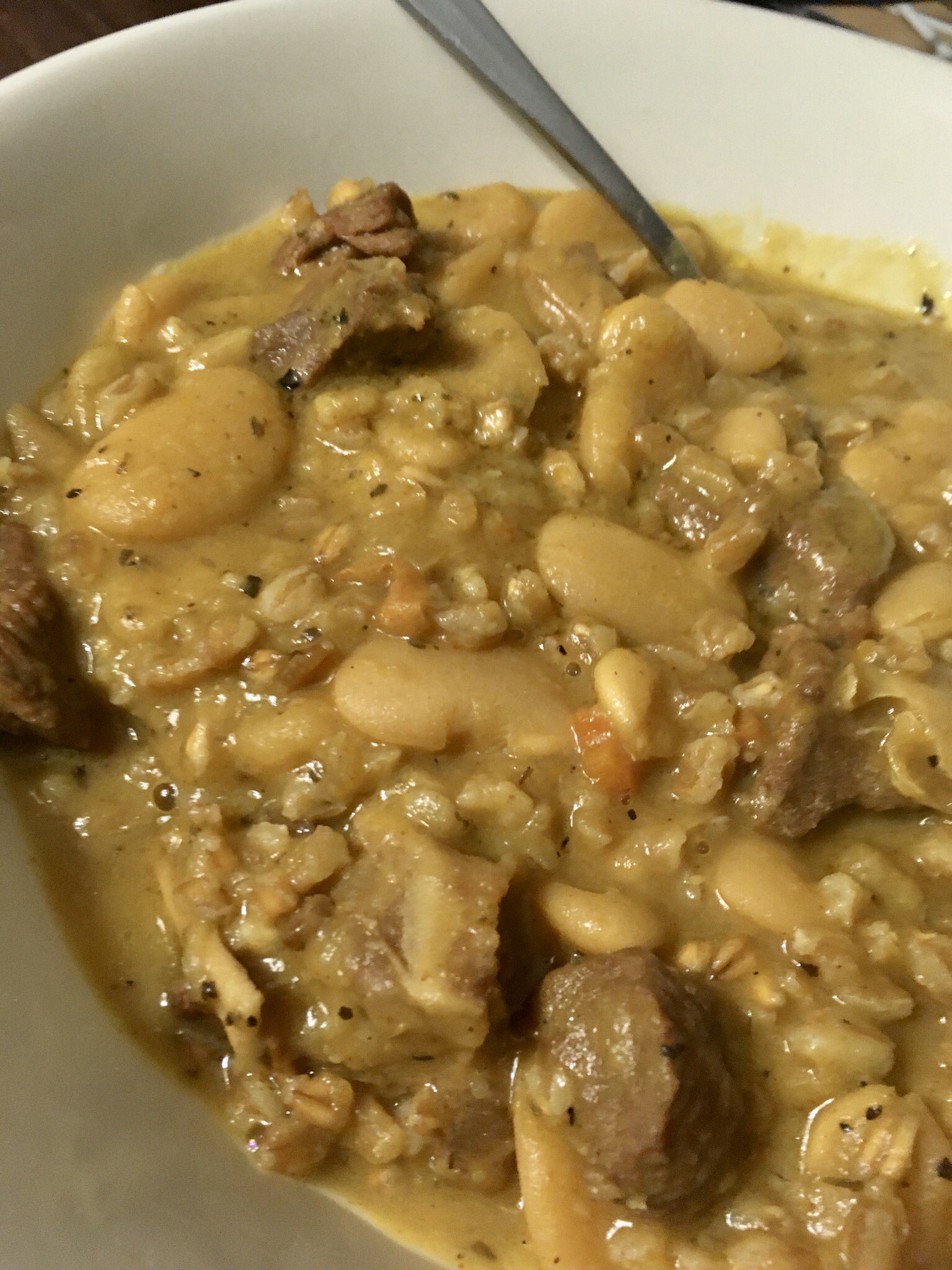 Asked Rancho Gordo for Bean Recommendation
The day before, I asked Rancho Gordo on Twitter ( @RanchoGordo ) which of their beans I should use. I have many Rancho Gordo beans with being part of the Bean club. I wanted to know which he thought would work best with a coconut milk goat curry. Steve's (owner) response was to go with one of their white beans. Because of all the other strong curry and goat flavors.
After going through my stockpile of Rancho Gordo beans. I found I had two one-pound bags of their "Large White Lima Bean." So that's the one I chose.
I soaked a pound of those in a pot with water with a good pinch of salt and a tablespoon of curry powder for two or three hours. At this point, I have forgotten how long I soaked them. I think that helped make the dish by letting the salt and the curry powder work its way into the beans.
While eating the Lima beans, I noticed that the yellow color of the curry had penetrated the flesh of the beans.
Toward the end of the bean soaking while preparing the vegetables, etc. I put the beans on the stove to start cooking by getting the water to a rolling boil for about ten minutes. Once there, I turned them down to a low simmer.
Vegetable Preparation
Then I diced up three small onions because it was all I had.
Next, I chopped up a head of garlic. It wasn't the extra flavorful farmers' market garlic. But store-bought garlic, so I used the whole head to add the right amount of flavor. You can add more or else, depending on how you like it.
Once the onion and garlic were chopped. I added them to my cast iron pan to soften up a bit with some Spanish olive oil, salt, and pepper. Then I added them to the pot of Large White Lima beans that I had simmering on the back of the stove.
After the garlic and onions were added to the simmering beans. I chopped up three small carrots and two stalks of celery. They were cut up into nice uniform pieces, so they cooked at the same rate. I then added them to the pot next.
I then moved on to taking the skin of a small squash. I used only half of it because the one I chose had more skin than squash flesh. I found it was becoming more work than I thought to get a little squash to add to the stew.
Adding Meat and Spices
Once the pot of beans, veggies were at a nice simmer. I added the goat meat pieces into my cast iron pan with more Spanish Olive oil. I did this to give it a good sear and caramelize the outside. Once done added that to the pot next.
NOTE – If you don't eat meat, you can substitute tofu. If you wanted a milder meat, you could add chicken, beef, pork, and even fish. Or you could skip the meat altogether, and it still would be an excellent meal.
The next thing I needed to do was add the following spices.
Curry powder (2 Tbsp)
Cayenne chili powder (1 Tbsp)
Smoked Spanish Paprika (1 Tbsp)
Ancho chili powered (1 Tbsp)
Then some salt and fresh ground pepper. I also added a tablespoon or two of dried basil, oregano, and thyme.
Time to Let Simmer
Finally, I sat back and let it simmer for a few hours. Doing so, let the beans cook and soften along with the meat to more tender.
Of course, about every 20 or 30 minutes, I would get up and check it to make sure it wasn't bubbling away too much. Added more water when needed, so everything was covered. I tend to leave the lid to my pot off open a bit to let the water evaporate.
Towards the end, I checked the spice and flavor levels to make sure they were where I wanted them. Knowing that as the sauce reduce down, it would get spicier.
Yes, you could use a veggie, chicken, etc., stock instead of water to add more flavor if you wanted. But I didn't have any at the time.
Adding in Coconut Milk and Farro
Towards the end, I added a 13.5 oz can of coconut milk to let it blend in with everything. Once that was done, I then added 8 oz. of farro to help soak up some of the liquid to become a thicker, more stew-like consistency.
Once it was all done, I ladled some into a small bowl and had the perfect dinner. The only thing missing was a nice slice or two of toasted sourdough to crunch and dip into it.
Ingredients
Below is a general outline of the amounts of all the ingredients I used. Some might have been a bit more, and others a bit less. I tend not to measure and go by taste.
Vegetables
1 head of garlic – finely chopped
3 small onions – chopped
3 small carrots – chopped in small pieces
2 stalks of celery – chopped finely small pieces
Half a small squash – chopped, small pieces
1 lb. – Rancho Gordo Large white Lima beans
Meat or other Protein
Goat cut into bite-size pieces
Spices, Etc.
3 Tbsp – Curry powder
1 Tbsp – Cayenne chili powder
1 Tbsp – Smoked Spanish Paprika
1 Tbsp – Ancho chili powered
1 Tbps -Salt (more to taste)
1 Tbsp -Pepper – fresh ground
1 – 2 Tbsp – Dried Basil
1 – 2 Tbsp – Dried Oregano
1 – 2 Tbsp – Dried Thyme
Miscellaneous
1 13.5 oz can – Coconut milk
8 oz – Farro
Conclusion
Hope all this was helpful.
If you make it please tell me what you think in the comments. Or even leave me suggestions for other dishes to make or you have made.
Here's to more home cooking.